TheBookSearch (aka DieBuchSuche) - the search engine for all books.
All books for 9781741752021 - compare every offer
Archive entry: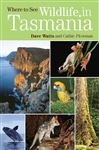 Where to See Wildlife in Tasmania
(?)
ISBN:
9781741752021

(?) or 1741752027

, in english, Allen & Unwin, New, ebook
Ebook for download
Nature, An easy to use, fully illustrated guide to finding Tasmania's abundant and unique native wildlife. eBook
Category: Nature
Data from 05/28/2017 08:01h
ISBN
(alternative notations): 1-74175-202-7, 978-1-74175-202-1
9781741752021
Find all available books for your ISBN number 9781741752021 compare prices fast and easily and order immediatly.
Available rare books, used books and second hand books of the title "Where to See Wildlife in Tasmania" from Watts, Dave; Plowman, Cathie are completely listed.
der heidenfürst parazoologie